← Back
Meet the Actors of the Hudson Valley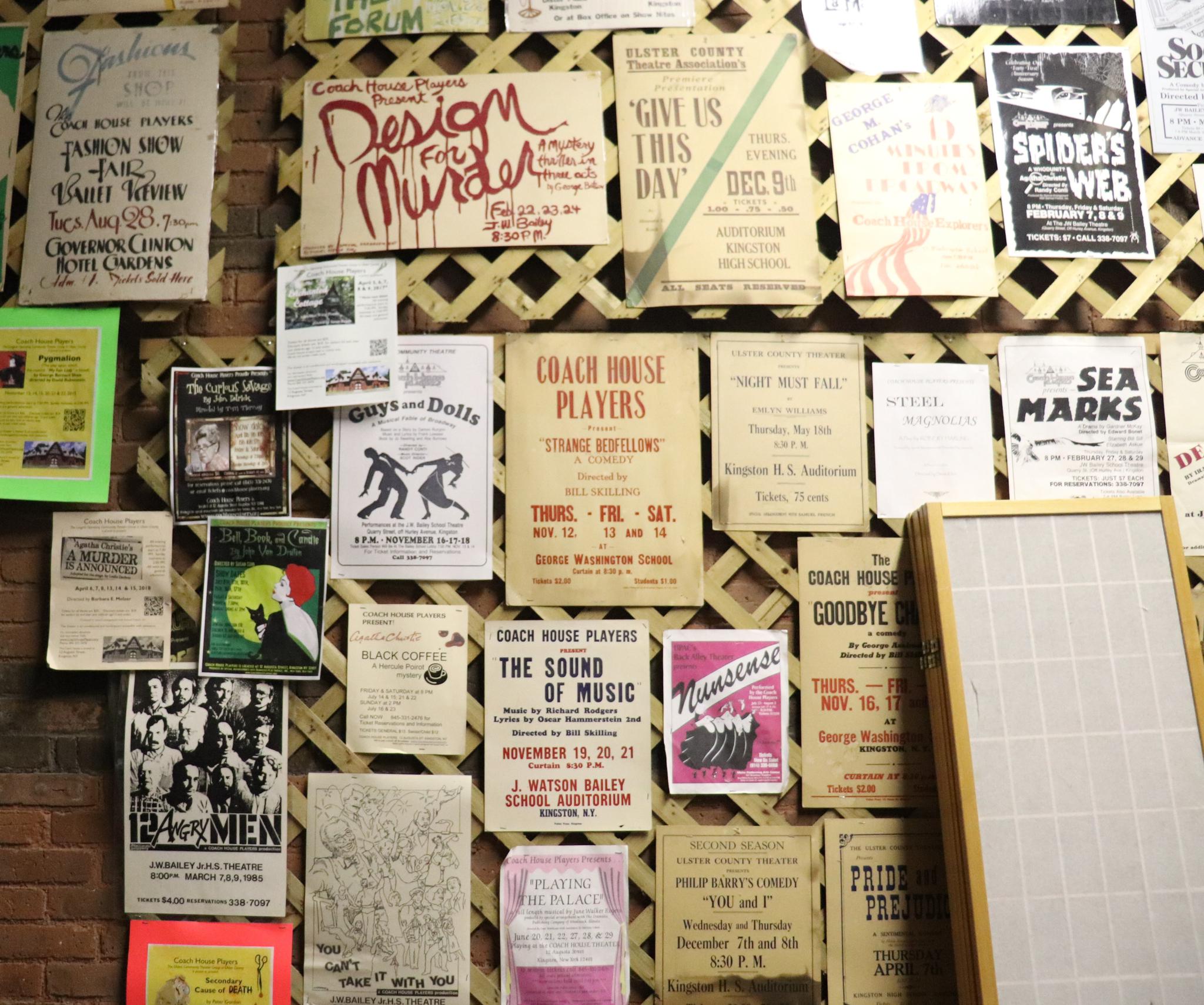 A playbill wall at Coach House players, in operation since 1950 and one of the Hudson Valley's oldest theaters. This location put on 0 shows in 2020.
Theater has taken a hard hit during the pandemic. As an art form that feeds off of in person interaction, it was easily deemed inessential and dangerous. According to a study conducted by Greg Guibert and Iain Hyde in 2021, tax-exempt performing arts companies across the country saw a sizable decline in revenue in quarter 3 of 2020; almost 54%. While local theaters struggled financially, the actors that comprise them struggled emotionally. Some of them continued working their day jobs without any rehearsals to look forward to. Others that rely on theater for their income had to simply sit and wait for other opportunities. The Hudson Valley theater scene had to undergo numerous changes. There were radio shows, Zoom play readings and drive-in performances. Now as the dust clears, Hudson Valley actors are coming into the light and sharing what they went through during the worst of COVID-19.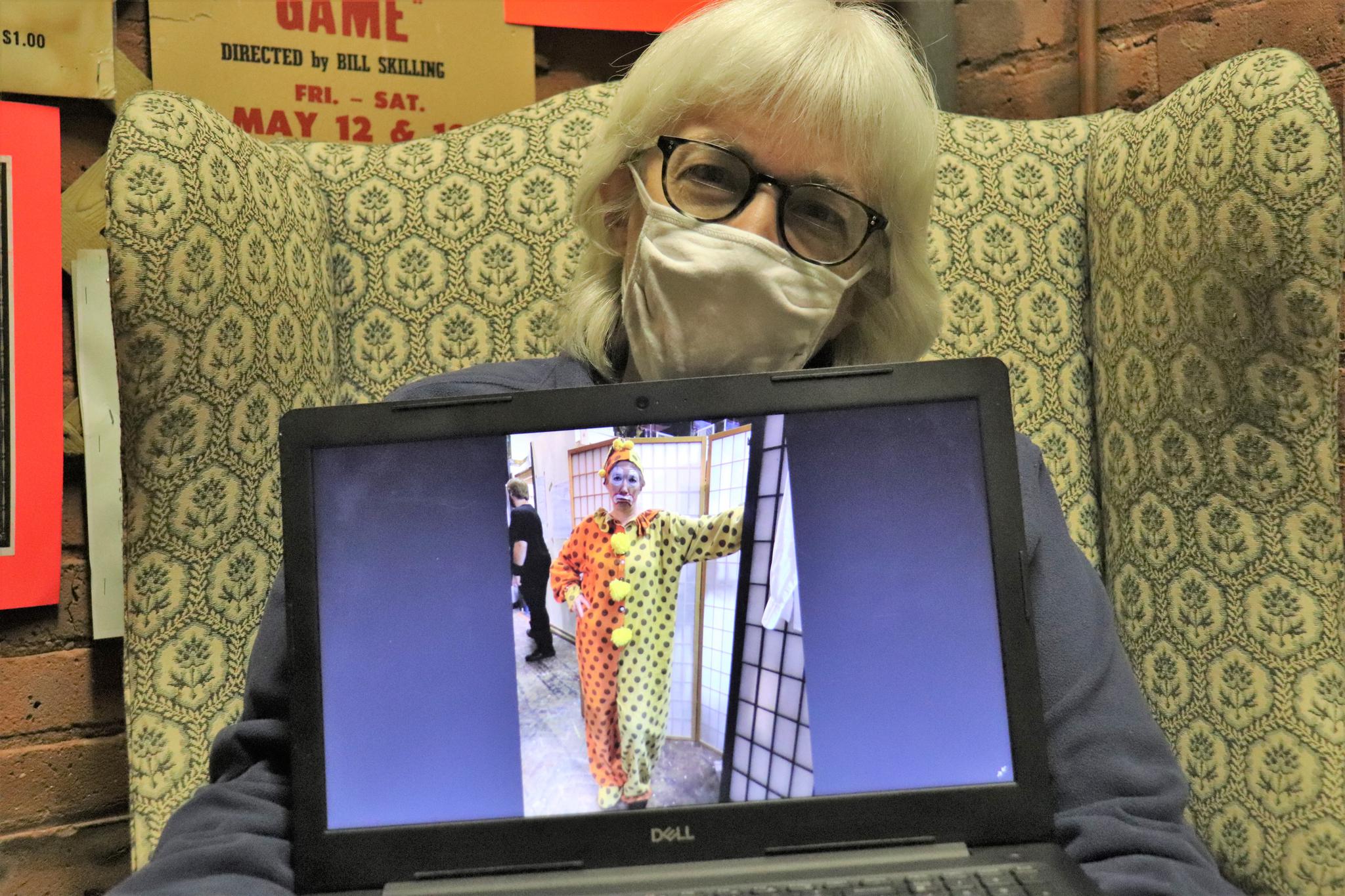 Susan Regan, actress and retired phlebotomist.
Susan Regan
It's hard to pin Regan down. She's acted and directed her way across the Hudson Valley. Over the span of 49 years, she's worked at Coach House players in Kingston, New Deal Creative Arts Center in Poughkeepsie, Ulster County Community College in Stone Ridge, Performing Arts of Woodstock and with Theatre on the Road, to name a few.
"I've been all over the map," she said.
Before retiring, Regan worked as a phlebotomist and lab technician at various locations. During this last years of her career, she drew blood at LabCorp in Kingston. When COVID-19 began in earnest, Regan the actress died away and Regan the phlebotomist took over. Regan found herself with less help at work as staff numbers sank. At the time when Regan needed the stress relief of theater most, it was gone.
"As I started having more patients, I lost staff," she said. "It got to the point where I was so physically stressed that I would come home, slouch into my rocking chair, and go to sleep."
Even during this time, Regan still found a way to be creative. If she felt awake enough at the end of the day, she'd strum on her guitar and sing a bit. But the stress was getting to her in a physical, tangible way. Her ulcer, which she had been living with for years, flared up. However, there was a light at the end of the tunnel for Regan. About two years prior, she had warned her boss that she would be retiring on November 1, 2020, the day she became eligible for Medicare. No one could have foreseen it, but that date fell in the midst of COVID-19.
"Being retired is the best darn thing since sliced bread," she said. In the theater she's done since getting vaccinated, Regan has had luck with her fellow castmates. They wear their masks and take all necessary precautions. However, some people decided to leave theater behind altogether.
"Because of the mask mandates, some people were really adamant about not doing theater anymore. There's some animosity there," she said. "I wish they could see the benefits of getting vaccinated." Regan's plan to stay safe?
"I'm gonna wear a mask until they try and arrest me for attempted robbery," she said.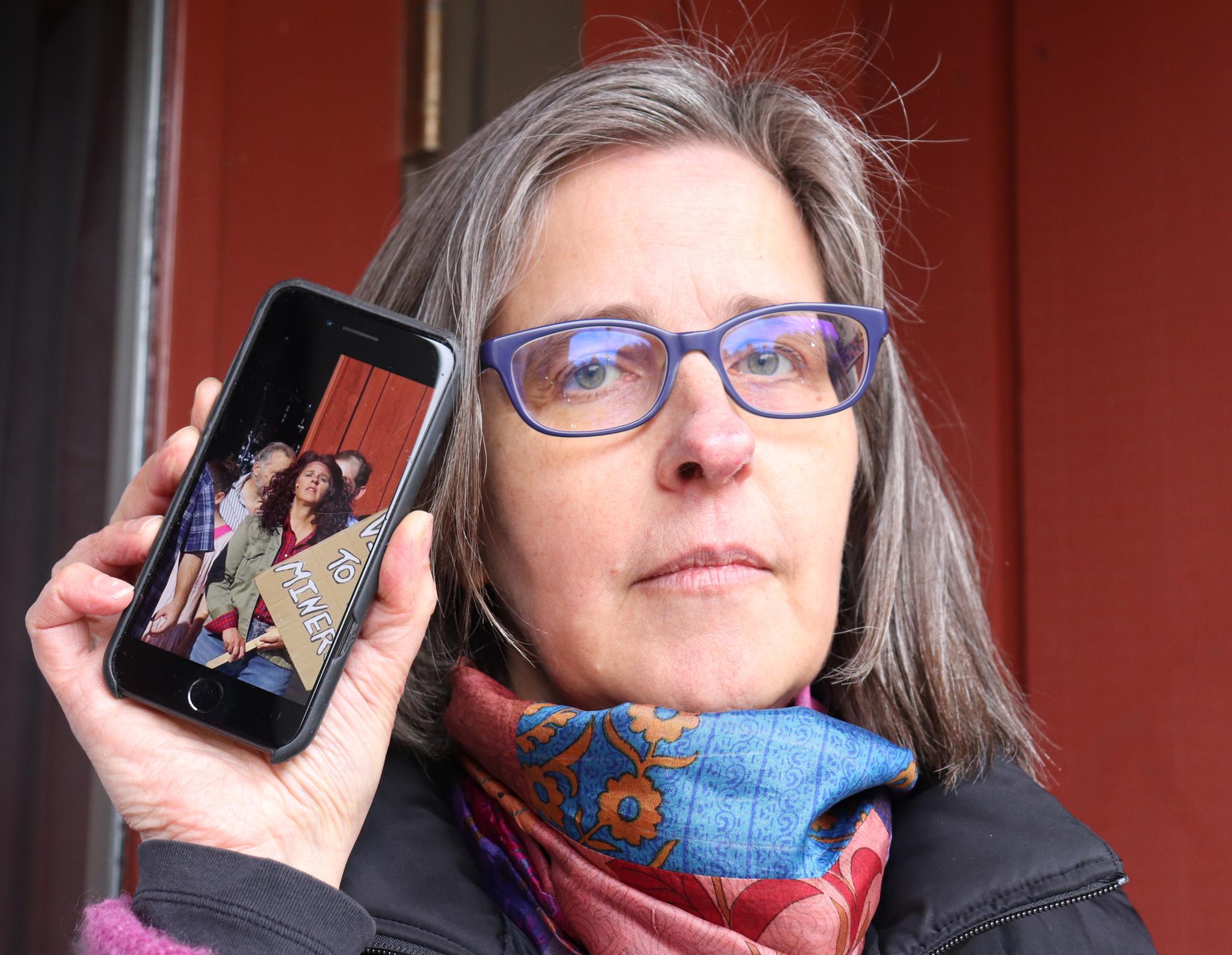 Born and raised in Ohio, Wendy Urban-Mead has called the Hudson Valley home for 34 years.
Wendy Urban-Mead
Urban-Mead is a history professor, mom, and die hard theater person. When both her kids moved out on their own, she redirected her energy into theater. Working mostly at the Center for Performing Arts at Rhinebeck, she's acted in musicals and plays, assistant-directed and assistant-managed shows and worked on prop teams. She wears a lot of hats. She finds teaching and acting to be similar.
"When you're an actor and it's time to go onstage, whether you have a headache or you're upset or whatever, you need to set it on a shelf and be present," she said. The same is true for teaching. "My students have no idea if anything is wrong. It's not about me, it's about teaching or telling a story."
When COVID-19 hit, Urban-Mead wasn't done telling stories. She joined up with Livingroom Shakespeare, an effort of actors at the Center for Performing Arts family to keep plays alive. The group performed Shakespeare and other classic plays over Zoom and Facebook live.
"I got to play King Lear," she said proudly. Urban-Mead was in many of the Livingroom Shakespeare readings for a year. The fall of 2020 into the winter of 2021 were especially hard for her. She felt incredibly isolated, but Livingroom Shakespeare brought some light into the darkness every week.
In the summer of 2021, Urban-Mead took part in the Center's outdoor production of Billy Elliot. The musical is set in Northern England, so Urban-Mead's costume consisted of toasty layers of flannel. Of course, the temperature was actually 90 degrees. Besides the heat, Urban-Mead also struggled with the size of the Center's outdoor stage.
"It felt a bit like running across a football field," she said. "There's such a relationship between an audience and an actor. When you're on an outdoor stage, you kind of just send the energy out there and it dissipates."
Now, Urban-Mead is less scared of COVID-19 than she used to be.
"I'm pretty sure I won't die if I get it now," she laughed. The Center for Performing Arts requires all of their performers to be vaccinated. "If there were people unhappy about that, I don't know them. Everyone I know just got vaccinated," she said. Urban-Mead is happy to be back inside with her audience and her chosen family at the Center.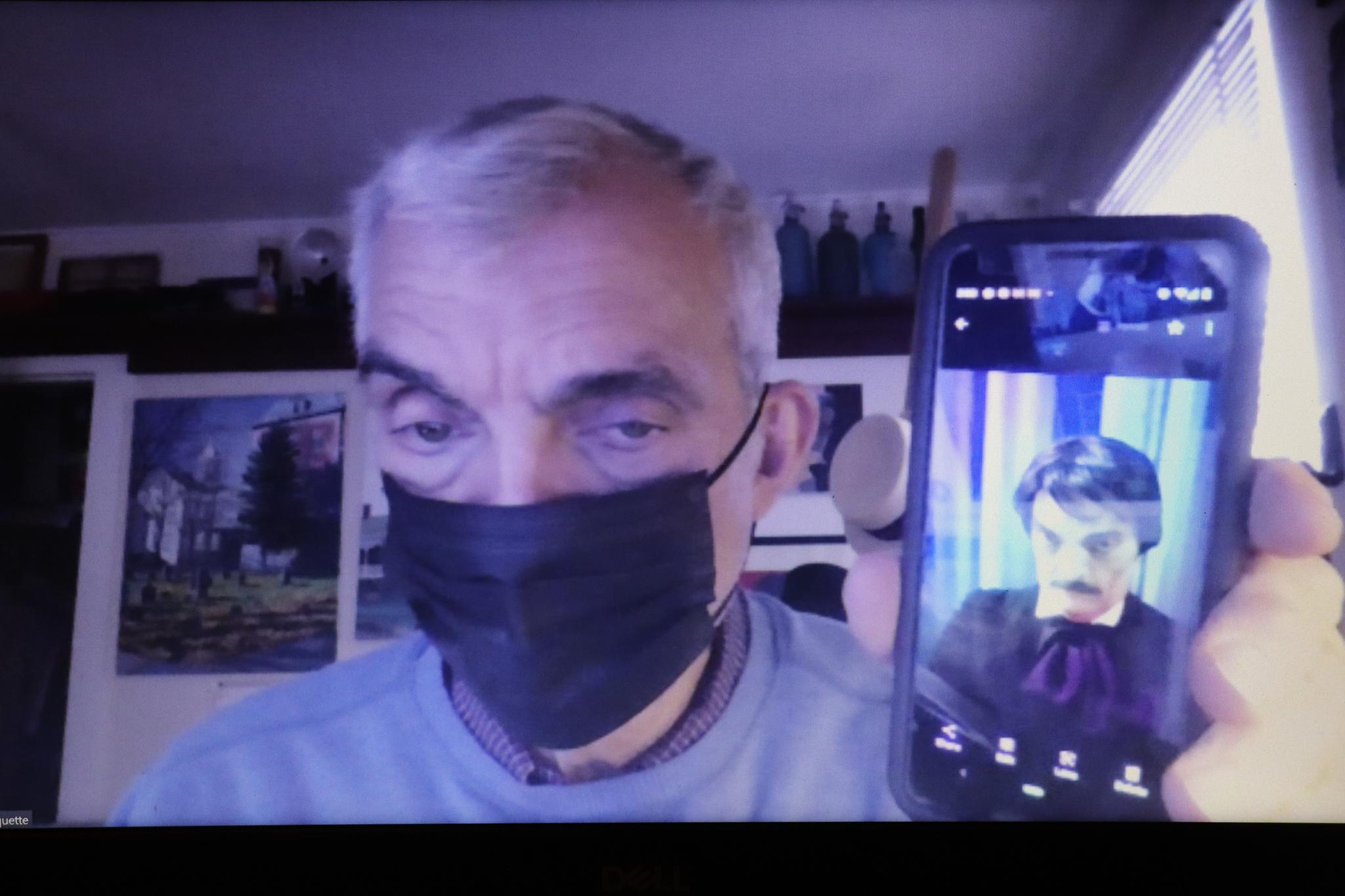 Frank Marquette, 70, from Kingston. When COVID-19 hit, he founded Hudson Valley Radio Theatre.
Frank Marquette
Frank Marquette remembers where he was when he first heard about COVID-19. It was March 2020, and he was at Mohonk Mountain House. He produces their annual interactive mystery weekends with his theater company, Murder Café.
"One of our actors was a nurse, and he said it was going to get serious," said Marquette. "But it had nothing to do with us yet."
At that time, Marquette had a whole year of productions planned for himself. Theater is his only source of income, and 2020 looked promising. Marquette gets his acting in by portraying local historical figures in graveyard tours, characters in murder mysteries, and even giving talks as Edgar Allan Poe at schools across the Hudson Valley.
"2019 was the best year of my theatrical career, and 2020 was shaping up to be even better," he said. Two weeks after that conversation at Mohonk, Marquette was wearing a mask and looking at an empty calendar. He found himself with plenty of time on his hands.
"I did a lot of gardening, and grew my beard down to here," he said, resting his hand on his neck. By late March 2020, Marquette was starting to get antsy. It had only been about a month, but he couldn't stay away from theater for long. He created a company called Hudson Valley Radio Theatre. Actors would record audio, then edit in sound effects and music. It was a technical challenge to be sure.
"There would be one actor in a studio with professional equipment, and another who's on the phone in his car," Marquette said. Hudson Valley Radio Theatre did classical pieces like Arsenic and Old Lace or Poe's The Masque of the Red Death. "I thought that was appropriate," he said of the latter. When the pieces were completed, Marquette put them up on Spotify, Apple Podcasts, and YouTube.
When he found himself performing in the audio productions, Marquette had to flex a different kind of acting muscle. He thrives with a live audience, but he was suddenly deprived of one.
"All of my performances have an interactive element. No two are the same," he said. "With audio performing, it's all theater of the mind. What you think you're conveying might not be there for someone else."
Now, Marquette is looking at a busy year of live performances. Two years after the mystery weekend where Marquette first learned of COVID-19, this year's mystery weekend was a smash, selling out. And, of course, Poe is making appearances again.
"I'm getting a lot of calls for Poe now," Marquette said. "Everyone I talk to is starved for live performances of any kind."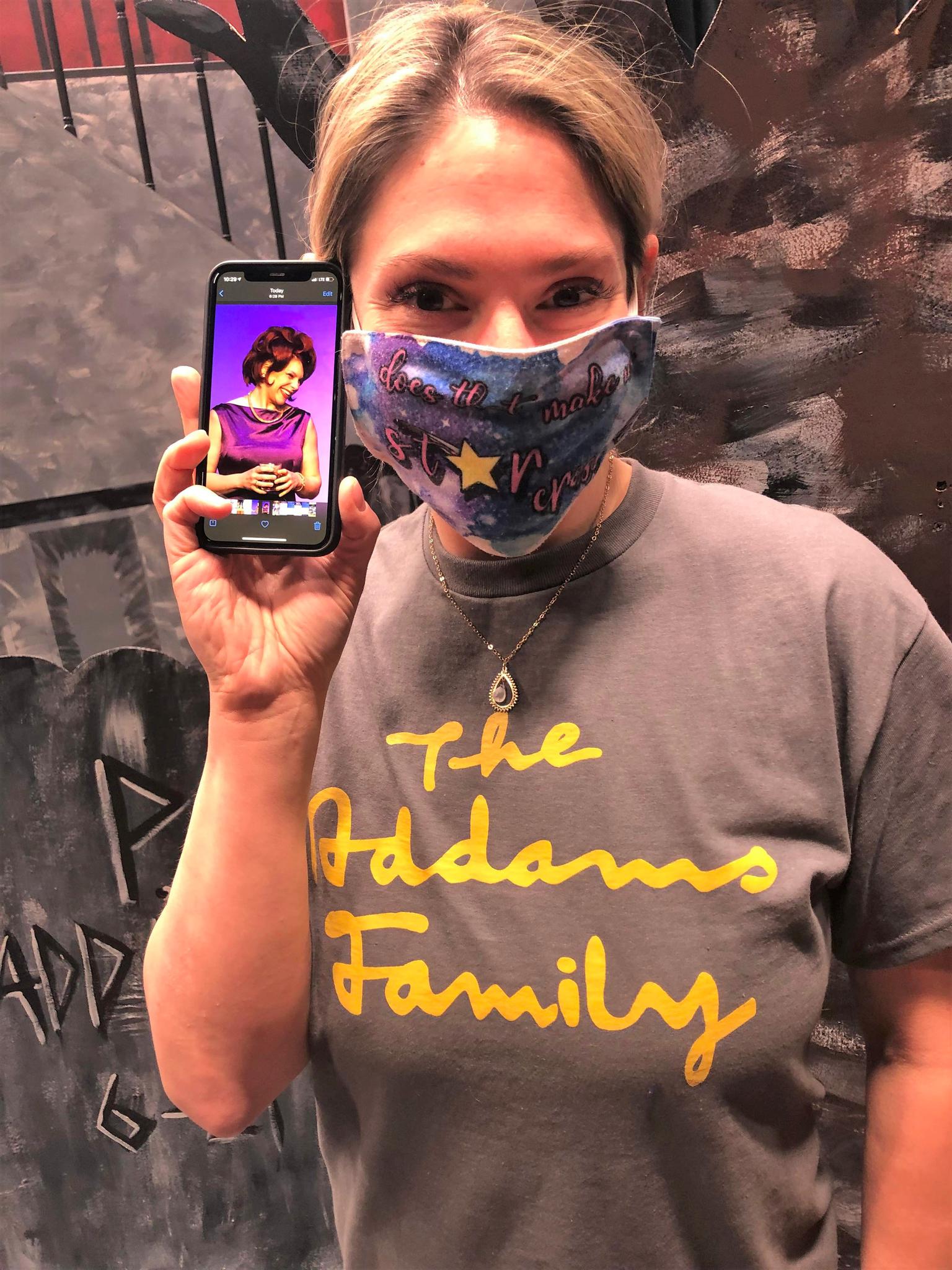 Photo courtesy of Tamara Cacchione. Cacchione, 41 and from Red Hook, directed an outdoor production during the second summer of the pandemic.
Tamara Cacchione
Cacchione has acted at the Rhinebeck Center for Performing Arts, Phoenicia Playhouse and the New Deal Creative Arts Center. The performing arts are her primary source of income. Pre-COVID, she'd do paid work at the Clove Creek Dinner Theater in Fishkill. But a dinner theater is hardly sustainable during a pandemic, and the space shut down.
"There was very little income to be had," she said. "There was some voice acting work available, like audiobooks. Those kept me busy. But there was no theater, which is my favorite art form."
In the summer of 2021, Cacchione directed a production of the musical Something Rotten! In Hyde Park for New Deal. Originally the show was slated to be performed inside, but as COVID cases exploded throughout 2020 that was no longer possible. "We got postponed a few times. Throughout each incarnation we kept waiting for COVID to end."
The cast of Something Rotten! held a good portion of their rehearsals outside at the height of the pandemic.
"We didn't even know if it was safe to sing twelve feet apart outside," Cacchione said. The cast measured distances between themselves with six-foot long pool noodles, wore masks and got their temperatures checked before each rehearsal, even outside.
When it became clear the show wouldn't take place inside, New Deal struggled to find a place to showcase Something Rotten! Many venues, both indoor and outdoor, weren't renting space. Instead of seeing this as an insurmountable obstacle, New Deal teamed up with the town of Hyde Park to create a mutually beneficial outdoor stage.
"It was nerve wracking as a director. I was wondering if the stage was actually going to happen, what it would look like, how big it would be," Cacchione said. The stage came to pass, built entirely by volunteers with funding provided by New Deal, Stewarts, and other community based organizations. Theatergoers slathered themselves in sunscreen and bug spray to watch the musical.
By the final performance of Something Rotten! most of the cast was vaccinated. The cast was able to touch each other again, when two years before they had all sent in audition videos from the safety of their homes. Cacchione watched as the actors went from performing in a tiny Zoom box to projecting to a spread out crowd at an outdoor venue. The outdoor stage continues to be used for live music, dance recitals, and other live events. Any community member with a show to put on is free to rent the outdoor stage.
This summer, New Deal will put on a Summer Shakespeare Fest, a production of Into the Woods and arts focused Summer camps for kids. As for Cacchione, she recently choreographed a school production of The Addams Family musical in Pine Plains. She noticed some kids wanted to keep their masks on.
"There's a lot of peer pressure to take it off," she said. "Those of us in production and staff try to keep them on to support the kids who want to keep their masks."
There was one unexpected perk of maskless rehearsals for The Addams Family.
"Now that the masks are off, I can tell which kids aren't singing," said Cacchione.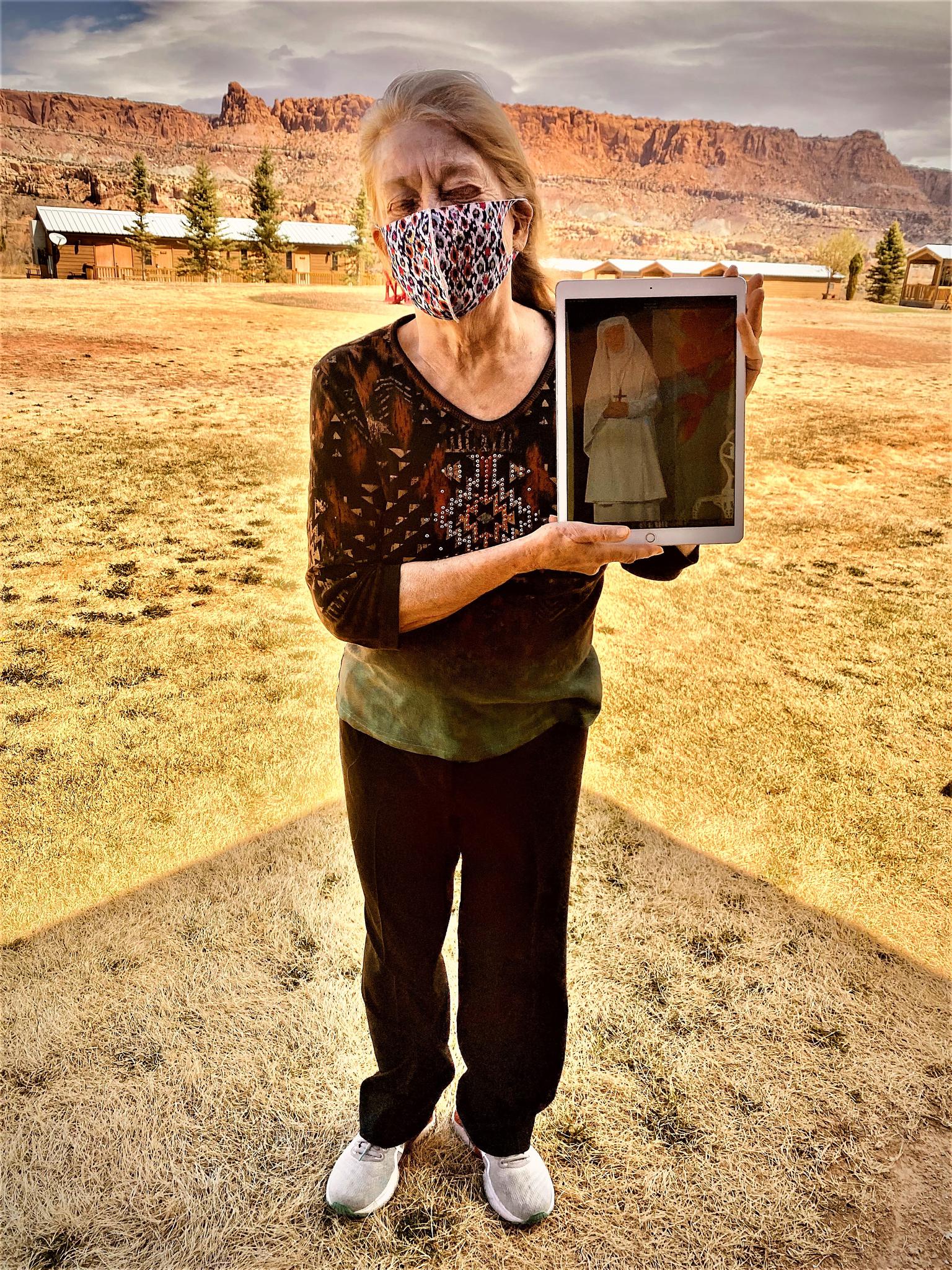 Photo courtesy of Adele Calcavecchio. Calcavecchio, 83, is president of Performing Arts of Woodstock.
Adele Calcavecchio
Theater has been a constant part of Calcavecchio's life. Before retiring she taught in several states, and even ran a bed and breakfast out of her home in Kingston for 21 years. But during all that time, she continued to act.
"I've managed to do at least one show every year of my adult life," she said proudly.
Calcavecchio's most recent production, the Tennessee Williams play Suddenly Last Summer at Performing Arts of Woodstock, was set to go up the week COVID-19 closed everything down. Now, two years later, it just wrapped up its final performance on April 3. Calcavecchio and her fellow cast members feel triumphant, even as they perform the solemn material. Of course, they didn't just let the play go over the two year hiatus.
"This show has such a power," Calcavecchio said. "You can't be free of it."
Calcavecchio didn't see the point of mourning when the show was postponed.
"We were disappointed, but we understood the gravity of it," she said. "It's just one little play, and the whole world is going through a pandemic. How could we get all emotional over it?"
The cast of Suddenly Last Summer had monthly meetings throughout 2020-2022. Being president of Performing Arts of Woodstock, Calcavecchio had to ensure the director, crew members and unionized actors of Suddenly Last Summer were compensated fairly. They were paid twice: once for all of their work leading up to the 2020 premiere, and once again for the actual premiere in 2022.
"They'd done all that rehearsing, and we're good for it," she said with a shrug.
In the meantime, Calcavecchio took acting lessons over Zoom and became acquainted with performing for a laptop camera. She took part in a Zoom production of A Wonderful Life with Phoenicia Playhouse in December of 2020. While Calcavecchio didn't mind that kind of theater, she has a disdain for performing outdoors. "Your voice just floats away," she said.
Calcavecchio took COVID-19 in stride. "We've had various things happen to us over the past 50 plus years," she said, referring to Performing Arts of Woodstock. "You just cope. There wasn't anything to be done about it, so why sit in the corner and cry?" Unless, of course, you're crying on stage.
Now, Calcavecchio is looking forward to Performing Arts of Woodstock's upcoming June production of The Moors, another play that has been ready to go up since 2020.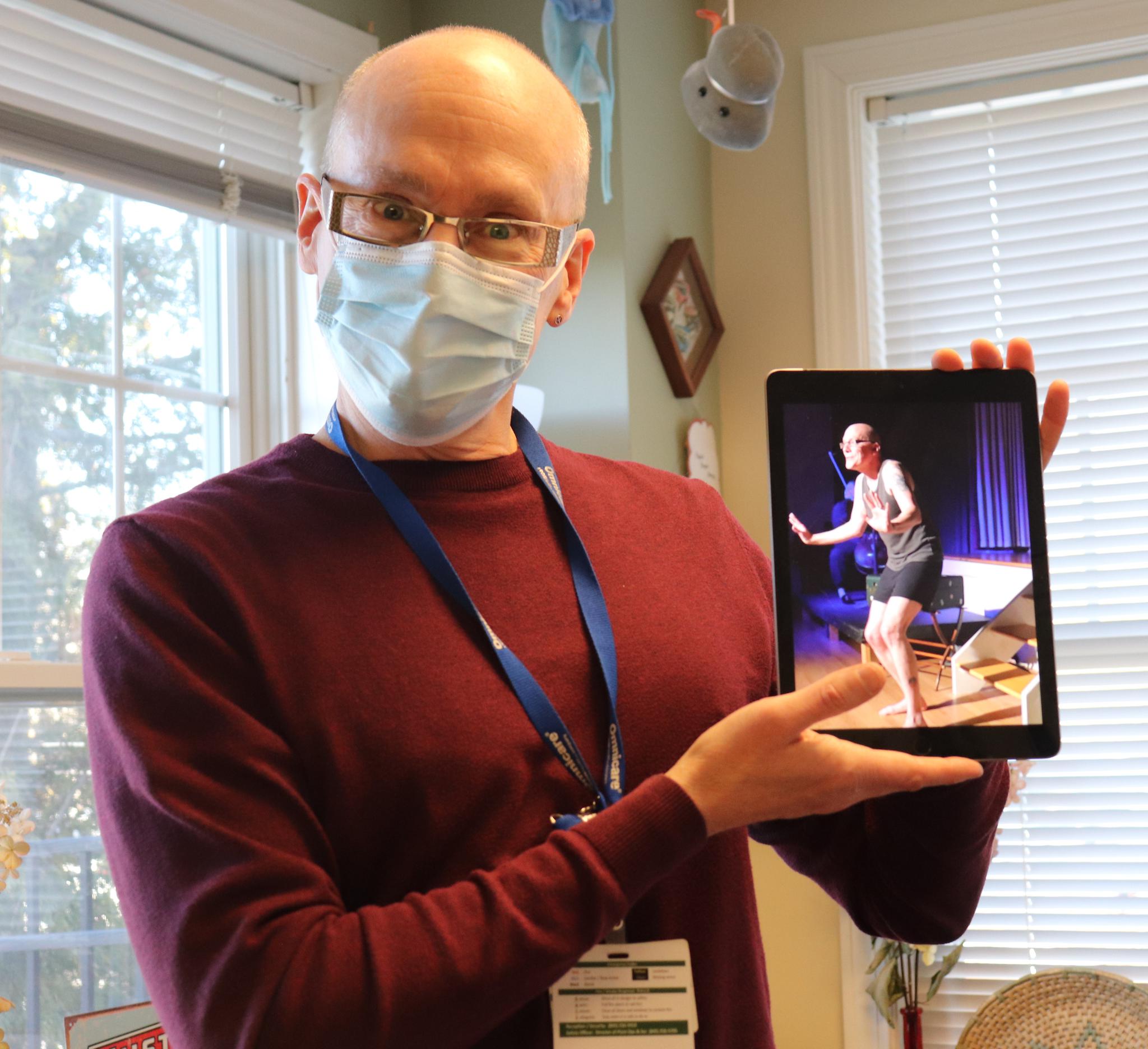 Philip Mehl, 51, is from Kingston. He uses his creative skills in the field as a social worker. 
Philip Mehl
Mehl attended a performing arts high school. He floated around doing professional work on commercials and TV shows for a while, then set acting aside as his career as a social worker ramped up. Six or seven years ago, Mehl ran into a good friend from high school. That friend happened to be a member of the Hudson Valley Improv Group. Mehl joined, and has since co-written and directed the group's biggest project to date, "The Truth About Splatter," a performing arts piece based on Mehl's poetry that ran at the Arts Society of Kingston in 2019.
Mehl works as an administrator at Woodland Pond, a senior living facility in New Paltz. As such, COVID-19 hit him hard.
"It basically shut down every other aspect of my life," he said. "But I don't say that to complain; it comes with the desk and the paycheck."
Mehl had to get creative to deal with the pandemic at work.
"We were trying to balance safety and psycho-social well being, and trying to follow the rules while still being human," he said. "We had to create systems for something that had never happened before in our lifetimes."
Mehl has always seen his acting and his social work as closely intertwined.
"Whether I'm on stage performing or I'm in the workplace, I'm sensing the energy and dynamics of people, and harnessing that energy to communicate a message."
Now that case numbers are improving, Mehl is trying to get back out there and share his art once again. He wants to use the experience of the pandemic to influence his work.
"The pandemic changed everyone, and I think there's an opportunity now through art and performance to tackle that," he said. Just as "The Truth About Splatter" brought Mehl's poetry to life, perhaps a show in the future will bring to life his perspective on COVID-19.
This March, Mehl took part in Hudson Valley Improv's first live show since 2020. Listen to him speak on that experience here.


Photo courtesy of John Remington. Remington recently began his own theater company, Troop Enigma, with two friends.
John Remington
Besides the obvious venue of New York City, Remington performs in Rhinebeck, Phoenicia, Performing Arts of Woodstock and Wappingers Falls. After retiring from his corporate career, he returned to his first love of acting. Like Urban-Mead, Livingroom Shakespeare was his main outlet during the worst of the pandemic.
"I've never been a Shakespearean actor," he said. "I thought it would be too difficult to memorize. Zoom gave me a real opportunity there."
In the fall of 2020, Remington was cast in the Center's production of Cabaret. The first meeting the cast had, everyone was masked.
"I told myself if we had to continue that way, I wouldn't be in the show," he said. "There were some health issues going on at home. I didn't feel secure in a rehearsal room with a group of 20 people." Remington was slightly relieved when the production of Cabaret was canceled.
In the fall of 2021, Remington performed in Death Trap with his friend Austin Carrothers, directed by his friend Michael Juzwak.
"I jokingly said to Michael that we should keep doing shows like this together, things we like," he said. "That conversation was in November, and by the end of December we had our theater company."
That company is Troop Enigma. Remington is prepared for the changes COVID-19 might bring to his new venture. The troop is like the pandemic itself; a changing, living thing. Remington is heartened by the return to normalcy around him.
"I'm super careful because I have grandkids, but they just left for Disney World, so everyone is taking their chances," he said.
Troop Enigma will be taking up most of Remington's time now. His philosophy on riding out the rest of the pandemic is pretty simple.
"I think as long as we're not stupid, we'll be ok," he said.
Click here for an interactive map of some theaters mentioned in this story.
-Emma Cariello